Description
The Rustic And Eco-Friendly Kitchen Tool Set!
Are you looking for eco-friendly kitchen tools that won't scratch your cookware?
Make sure that your most delicate cooking surfaces are protected by using the amazing Wooden Utensils!
These sturdy wooden spatulas won't scratch on non-stick coatings, stainless steel pots, and cast iron!
They are good insulator that doesn't absorb heat even when left in the hot pot for a long time!
Compared to metal utensils, wooden kitchen tools are quiet to use!
Make sure your hand won't get burnt while cooking using these efficient Wooden Utensils!
Non-Toxic And Handmade Stylish Design!
These beautifully carved designs with long hands provide an easy grip!
Product Specifications:
Material: Wood
Color: Brown
Size & Weight:
Oil Spoon = 25.5xm x 6.2cm (48g)
Seasoning Wooden Spoon = 23xm x 6.8cm (32g)
Shovel A = 33cm x 8.2cm (65g)
Shovel B = 31.5cm x 7cm (60g)
Soup Spoon = 27cm x 7.8cm (86g)
Scoop = 28cm x 8cm (58g)
Spoon = 18cm x 8cm (32g)
The wooden handles are gently rounded that feels comfortable to hold while using it!
These remarkable Wooden Utensils are non-toxic and won't leach harmful chemicals into your food!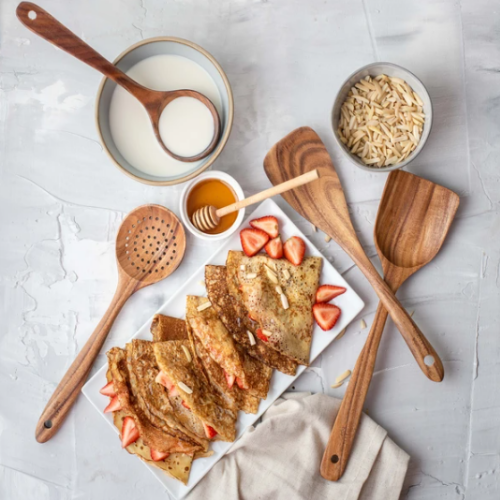 Durable And Environmental-Friendly!
With proper care, these incredible utensils are durable and can give you a long service!
Wood has natural germ-killing properties that make it safe to use on food than plastic or wooden kitchenware!
Using these utensils are an environmentally responsible choice because wood is a natural and renewable and biodegradable resource!
They bring out the flavor in any meal by creating a nostalgic aroma with traditional cooking!
Easy to clean and won't rust even if soaked in a bowl of water!
Accentuate your home by giving it an antique look using these eco-friendly Wooden Utensils as a decoration!